The power of Toledo's only locally owned NAID-certified shredding company.
AccuShred can help.
As a locally owned and operated business in Toledo, we give back to our community through our ShredCancer program which to date has donated over $154,000 to the local Northwest Ohio Susan G. Komen for the Cure.
AccuShred offers secure routine container shredding services and document purge services. Conveniently located on Central Avenue, in Toledo, AccuShred also offers walk-up destruction services.
More than just a "shredding" service, AccuShred knows that businesses need data protection services to safeguard their company's sensitive information. We also offer electronic destruction, computer recycling services, and product destruction services.
Small businesses, health systems, manufacturers, financial institutions, in and around Toledo, Northwest Ohio, and Southeast Michigan all count on AccuShred for their shredding and destruction services. 
Fill out the form for a quote on AccuShred's shredding services.
Why AccuShred Is Different
AccuShred is different from other shredding companies because we offer complete data protection services. From shredding and document destruction to our electronic and product destruction services, we can help you keep your business and customer information secure and properly destroyed.
As a locally owned and operated shredding business we know how important it is to have someone pick up the phone. We strive to be as responsive as possible and take pride in our excellent customer service.
Need a shredding service that is responsive to your needs, contact AccuShred today to learn more about our services.
Does Your Data Protection Provider Check All The Boxes?
AccuShred Does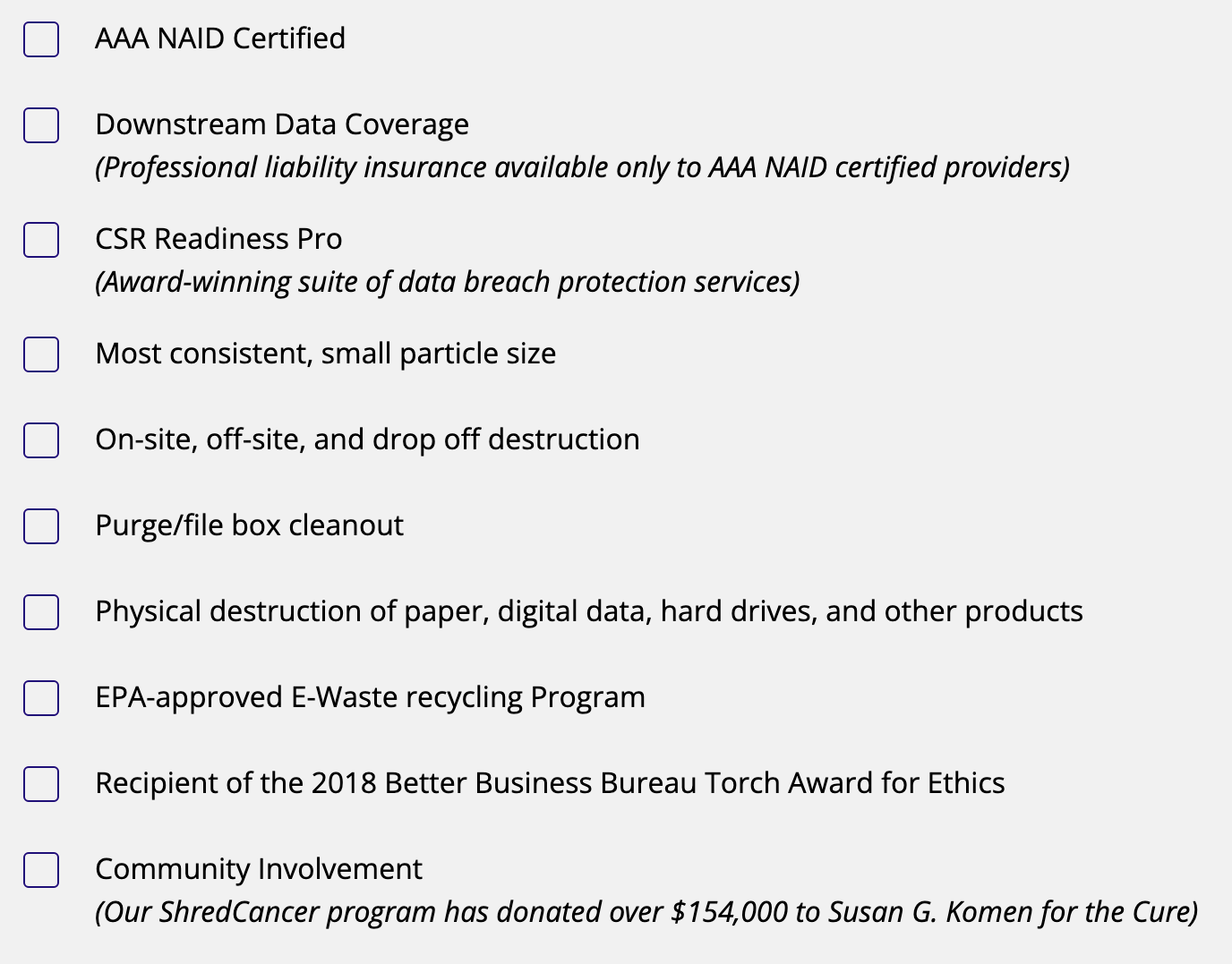 Contact AccuShred Today
We will outline a secure, cost-effective program for all of your data protection needs. Fill out the form and someone from AccuShred will contact you regarding a no-obligation estimate.