Computer Recycling in Lansing, MI
Once your company upgrades to new computers and other equipment, the question arises of what to do with the old and unneeded equipment. Computer recycling through a company like AccuShred can solve this issue. We offer computer recycling in Lansing, MI.
Why Proper Recycling of Old Computers is Important
There are multiple reasons to properly destroy and recycle your old equipment when your business upgrades to new equipment. First, properly and effectively destroying your hardware is the only way to ensure that your data is completely destroyed. Securing electronic data is one of the most crucial things a company can do to avoid a data breach. By destroying your equipment and recycling the components, you can be assured that any data is completely gone.
Another important reason to recycle old computers is for environmental impact. Disposing of electronic equipment in a landfill or incinerator has a negative impact on the environment. This equipment, whether incinerated or dumped, can release lead, mercury, and cadmium into the soil, groundwater, and atmosphere. By destroying electronic equipment and recycling the components, this negative impact can be mitigated.
Where to Recycle Computers in Lansing, MI
Simply throwing away or taking your computer, electronic equipment, or hardware to the dump is both a data risk and environmentally problematic. It is important to find a place that will break down, destroy or shred your computer and hardware, and recycle the components. AccuShred has the equipment and ability to destroy and recycle your unwanted and obsolete computers and electronic equipment.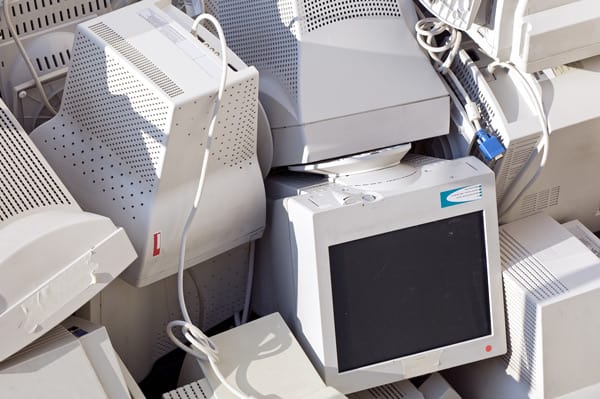 Types of Equipment AccuShred Can Recycle
AccuShred can provide your company with collection containers to store your unwanted electronic components until you are ready for a pick-up. AccuShred can pick up your electronics on a one-time or regular basis. All electronic materials will be broken down into recyclable commodities. After your components have been recycled, AccuShred can provide your company with a Certificate of Recycling.
AccuShred can recycle:
Computers/CPUs/Laptops
Servers/Server Racks
Monitors/CRT/LCD/LED
Peripheral Cables/Circuit Boards
Printers/Copiers/Fax Machines
Mice/Keyboards/Webcams/External Drives
Cell Phones/Tablets
Audio/Video Equipment
Flat Panel Televisions (small fee may apply)
AccuShred can be the answer to your company's computer recycling needs. Your company can feel confident that your hardware can be destroyed in a secure and environmentally friendly way. Contact AccuShred for further information about computer recycling.
Request Services from AccuShred
Fill out the form below and AccuShred will connect with you about your individual needs.
"*" indicates required fields