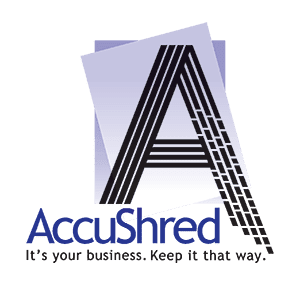 We take our responsibility, and your trust, very seriously. AccuShred is in the business for one reason, and one reason only – to destroy your sensitive material in the most secure, cost-effective manner possible. Every scrap of shredded paper is recycled into household tissue products, effectively closing the loop on sustainability.
AccuShred is locally owned and operated and is committed to supporting the communities that we serve. We proudly offer Community "Shred Days" several times a year and sponsor many worthwhile not-for-profit events.
Most companies are surprised at the affordability of our data destruction services. We invite you to compare AccuShred's security, service, and price to your current provider. We believe we're the best, but don't just take our word for it. Click Here to View Our Testimonials
Top Ten Reasons to Use AccuShred
Your time is money. AccuShred can shred in minutes what it would take office staff hours to accomplish.
When you use AccuShred, you are using an AAA Certified company accredited by the National Association for Information Destruction, or NAID. We meet or exceed the highest professional standards in the industry, giving you the maximum protection from lawsuits and other liability.
AccuShred carries Downstream Data Coverage, the most up to date, complete professional liability insurance product available on the market. This policy not only protects us, but you as well, as our customer. Best practice dictates that we stand behind our commitments. This policy helps us do just that.
 AccuShred has partnered with the Certified Information Privacy Professionals at CSR Privacy Solutions to provide a full suite of industry-leading data protection services for businesses. The CSR Readiness® Pro suite contains the CSR Readiness® Risk Assessment and award-winning patented Breach Reporting Service™.
AccuShred has been awarded a coveted 2018 Better Business Bureau Torch Award for Ethics. This award embodies the BBB's mission of advancing marketplace trust by bringing attention to the policies and practices that AccuShred employs to generate a high level of trust among its employees, customers and community. It also serves as a measure of reliability and customer satisfaction.
AccuShred ensures an unbroken chain of custody to protect your sensitive information during the entire shredding process. We use secure, locked containers in your workplace and bonded, insured employees, to safely transport your materials to our shredding facility. Your information is completely protected until it is destroyed.
We completely destroy sensitive electronic data and equipment. When AccuShred disposes of your old computers and hard drives, we do so in a manner that permanently destroys all data. We NEVER wipe, or sanitize, your hard drives! We physically shred them.
No more equipment hassles. Small shredders often clog and burn out, and commercial shredders are expensive to buy and maintain. Both are accidents waiting to happen.
AccuShred's process is completely responsible to the environment. We keep your discarded electronic waste out of landfills to prevent the release of dangerous toxins and pollutants, and we send all shredded paper to paper mills for recycling.
Employee issues. Most employees think that shredding is a tiresome task that takes them away from other duties. In addition, lower wage employees are the most likely to realize the value of information to competitors and have the economic motivation to capitalize on their access to this information. Let our trained, bonded and insured staff take over your shredding for as little as $1 a day.
It's easy. The process is simple. The change is seamless. The cost is painless. The results are excellent.