Document Destruction in Oak Park, MI
Document destruction is crucial to the security of your Oak Park, MI business and the protection of your clients and their information. All document destruction is not created equal. AccuShred is proud to destroy documents completely. AccuShred knows that the sensitive material you trust us to destroy deserves the most secure handling. Recognized for our strong commitment to integrity and ethics, we were awarded the Better Business Bureau Torch Award for Ethics in 2018. Over 2500 satisfied customers trust AccuShred with their document destruction needs.
Oak Park, MI Document Destruction
It is important to protect the information that is passed through your business. Your documents need to be shredded thoroughly and destroyed completely to ensure that this information is safeguarded. We offer document destruction for many industries including:
Government offices
Medical facilities
Education
Banking
Construction Industry
Legal Offices
We also offer residential pickup. We pride ourselves on destroying your documents securely and hold ourselves to the highest standard.
Document Destruction Services Oak Park, MI
AccuShred offers services on a daily, weekly, monthly, or on-call (though no less than quarterly) basis. We offer paper shredding for documents with staples, paper clips, and even small binders and folders. There are several types of services offered.
Routine Container: AccuShred will provide secure locking bins or console units to be placed throughout your office or facility free of charge. Our drivers will arrive to service these bins and leave a service ticket showing that AccuShred accepts legal responsibility. After document destruction is complete, you will be provided with an invoice and notarized Certificate of Destruction.
Purge: AccuShred will do a purge of old records annually, semi-annually, or as needed. You can prepare the material for document destruction in file boxes, or AccuShred can provide your business with containers.
Drop-Off: Your business can bring records to our facility for document destruction. Our associates will unload, weigh, and bring your records to the shredder for destruction.
Mobile Shredding: For clients who want their document destruction or paper shredding done on-site, AccuShred offers on-site destruction in a mobile shred truck. We pride ourselves on using slow-speed rotary grinder shredding trucks to create very small particle sizes. We will also partner with local businesses to host community shredding days with our mobile shredding trucks.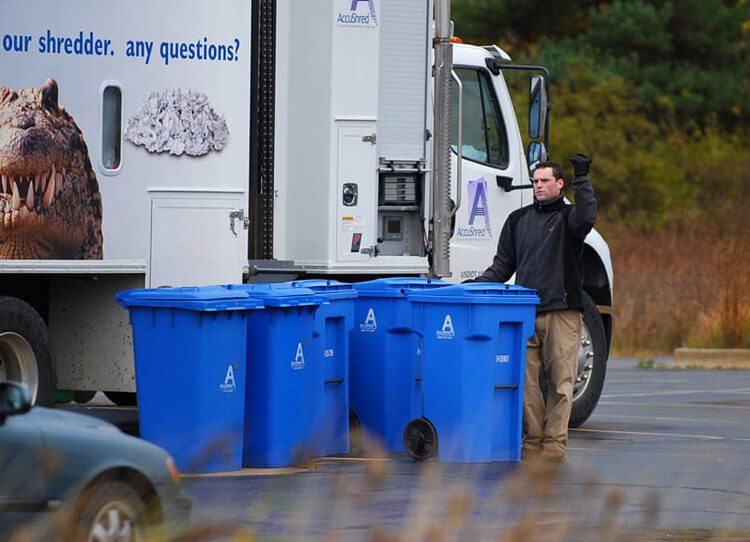 Oak Park, MI Secure Document Destruction & Paper Shredding
The National Association for Information Destruction (NAID) is a trade organization for companies providing information destruction services. NAID Certification is offered on a voluntary basis and establishes standards for a secure destruction process. AccuShred is the first company in the area to achieve AAA Certification status, which is the highest level attainable. AccuShred is proud to meet the highest standards for document destruction.
Contact AccuShred today to set up your secure document destruction services for your home or business.
Purge File Box Document Destruction
Request Services from AccuShred
Fill out the form below and AccuShred will connect with you about your individual needs.
"*" indicates required fields