December 13, 2019
Toledo, Ohio, (December 16, 2019) – AccuShred, a data security and electronics recycling company headquartered in Toledo, was named the Outstanding Corporate Philanthropist at the 32nd Annual National Philanthropy Day Awards luncheon held by the Association of Fundraising Professionals Northwest Ohio (AFPNWO).  The award ceremony honors individuals and organizations who have significantly contributed to the […]
January 30, 2018
Toledo, Ohio – January 30, 2018 –  AccuShred, LCC, a high-security data destruction company providing services to clients in Ohio, Michigan and Indiana, is proud to announce it has surpassed $100,000 in donations to Susan G. Komen Northwest Ohio over the last seven years. The ShredCancer program, which was implemented in 2011, was the first […]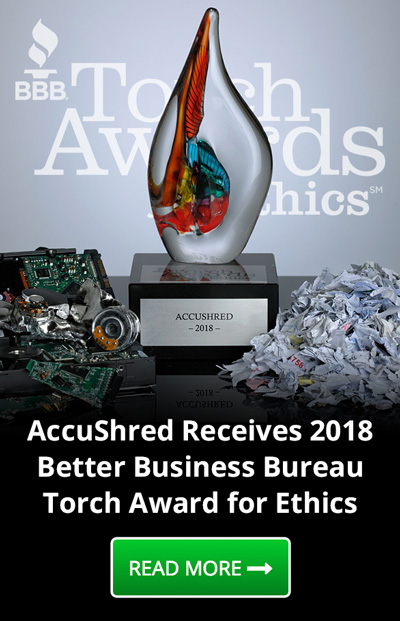 Upcoming Shred Days
City of Sylvania, April 18, 2020
9:00am-1:00pm
Location:
Sylvania Municipal Building, 6730 Monroe St. #201, Sylvania, OH 43560
Spring Meadows Financial, April 23, 2020
2:00pm-4:00pm
Location: 
7359 International Dr # A, Holland, OH 43528
Horizons Planning, April 27, 2020
3:00pm-6:00pm
Location:
250 W. Eisenhower Pkwy. #140, Ann Arbor, MI 48103
All Days and Details
Testimonials
Tim with AccuShred is exceptionally professional and informative. We have used AccuShred for over five years and highly recommend their services.
Laurie S.
More Testimonials